In 2008, Bhutan embarked on a journey of democratic transition making it the youngest democracy of its time.
The transition to democracy was soon followed by the proliferation of media in the country which ushered in a new era of media and democracy in Bhutan.
The Bhutan Centre for Media and Democracy was then established to nurture and improve the standard of the existing media in the country which would eventually foster the culture of democracy.
BCMD is one of the first registered Civil Society Organisation in Bhutan which works with a cross section of society on issues that concern youth, environment, society, governance and education, using media as a modus operandi. 
(From the BCMD Website)
The Center for News Literacy's longest continuous overseas partnership is with Bhutan Centre for Media and Democracy, starting in 2009, when BCMD Executive Director  Siok Sian Pek-Dorji attended the first national News Literacy conference.
In 2010, Professor Steven Reiner conducted teacher workshops in Thimphu, Bhutan's capital city.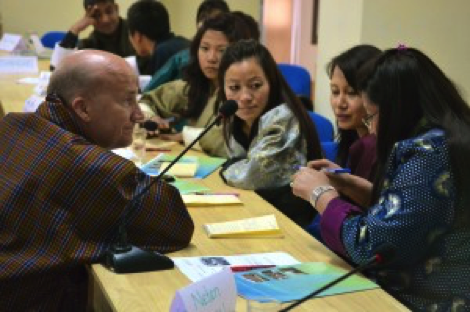 In Spring 2012 and Winter 2013, Center for News Literacy Director Dean Miller and Michael Spikes, Digital Producer, conducted workshops in Bhutan and assisted in the assembly of teaching materials for use in elementary and secondary school classrooms.
The Center is honored to extend the partnership of learning with BCMD here on the Digital Resource Center through the sharing of the following materials and educational media packages linked to News Literacy Course Concepts.
.
Resources from the Bhutan Center for Media and Democracy