One of the major powers of Social Media, as you saw in the previous example is that it democratizes the power of information, placing it in the hands of individual users of Facebook, Twitter, Wikipedia, crowdsourced websites, smart phones.  Individuals have the ability to use that power for good or for ill…in the same ways that a small elite used to hold that power because they could afford a printing press or a broadcast station.
The idea of crowd-sourcing is catching on. Increasingly, news organizations are finding ways to put many hands to work on the drudgery of investigative reporting: reading documents, tallying items, building databases, scanning photos…It's a partnership of professional and passionate amateur Fourth Estate-ers.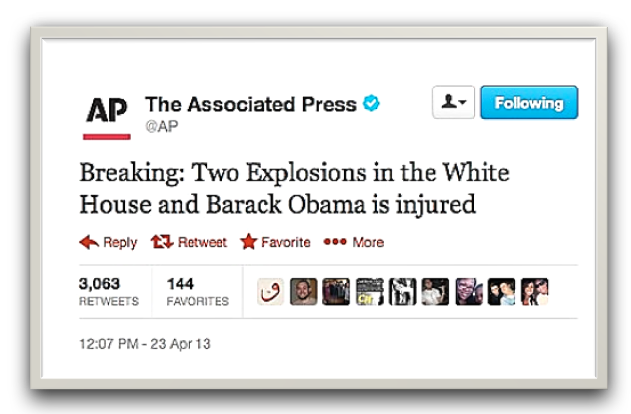 But, Social Media also has the power to amplify MISinformation.
The Associated Press's Twitter account was hacked, and the hackers tweeted bogus news--including this tweet. A few minutes after the tweet had been released, it had been retweeted more than 3,000 times.  (The AP has some 1.9 million followers on Twitter.)  In the wake of the bogus tweet, the Dow Jones plummeted 145 points in 2 minutes and the S&P Index lost $136.5 billion in value in 3 minutes.  The AP issued a correction within 2 minutes, and the markets recovered once the record was set straight.  (As fast as false information can spread, it can be debunked just as fast—but does the correction reach everyone?)  
The Syrian Electronic Army later claimed credit for the cyber attack. 
---
In another example of misinformation being spread online -- in the aftermath of the Boston Bombing in April of 2013, it was pretty exciting to see Internet-izens banding together in the ManHunt for the bombers. On Reddit, where they really understand the power of crowd-sourcing, distributed computing and the other wonders of the Web, power users vacuumed up every photo they could find on Facebook™, Twitter™, and Instagram™ and shared them to their friends and followers to scrutinize and analyze. Then, by combining vague police statements and photos, they found in all those crowds of people at the marathon, the bad guys. The New York Post, following along with Reddit, grabbed the photo and plastered it on the front page. It was a demonstration of the great power of social media has to help informed citizens take care of problems without the government's help…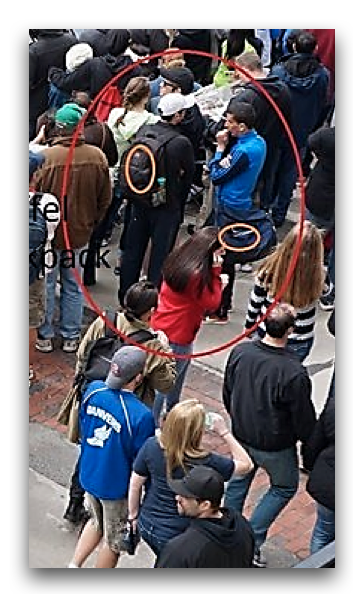 Which then was picked up as break in the case on the front page of the New York Post with this infamous headline:
But it was the wrong pair of young men.  16-year-old Salaheddin Barhoum and 24-year old Yassine Zaimi are totally innocent.
The two runners from Massachusetts filed a lawsuit, suing the Post for libel, negligent infliction of emotional distress, and invasion of privacy--which was settled out of court.  They may have gotten some money, but will they ever get their reputations back?
.